Hello dear reader 👋
Let me set come context some context first before diving into how I set up my home office.  I am a software engineer, a meticulous one you can say! I am sharing my own setup because many friends asked me to do so (and I truly thank them for the kind words and encouragement). The items you gonna see below are my own preference based on my own research. So don't take everything you read here as a recommendation, do your own research and comparisons ✌️
With that being said, let's get back to business! I've relocated a couple of months ago to Stockholm, as I joined Spotify. Needless to mention that remote/home work is nowadays the new normal. Worst, it doesn't look it's going to change anytime soon. At first, building my home workspace wasn't really a priority, but as I started to have more back pain, productivity drop and a bit of anxiety, It became  necessity.
After 2 months of gathering gadgets and items from here and there, here's the final look: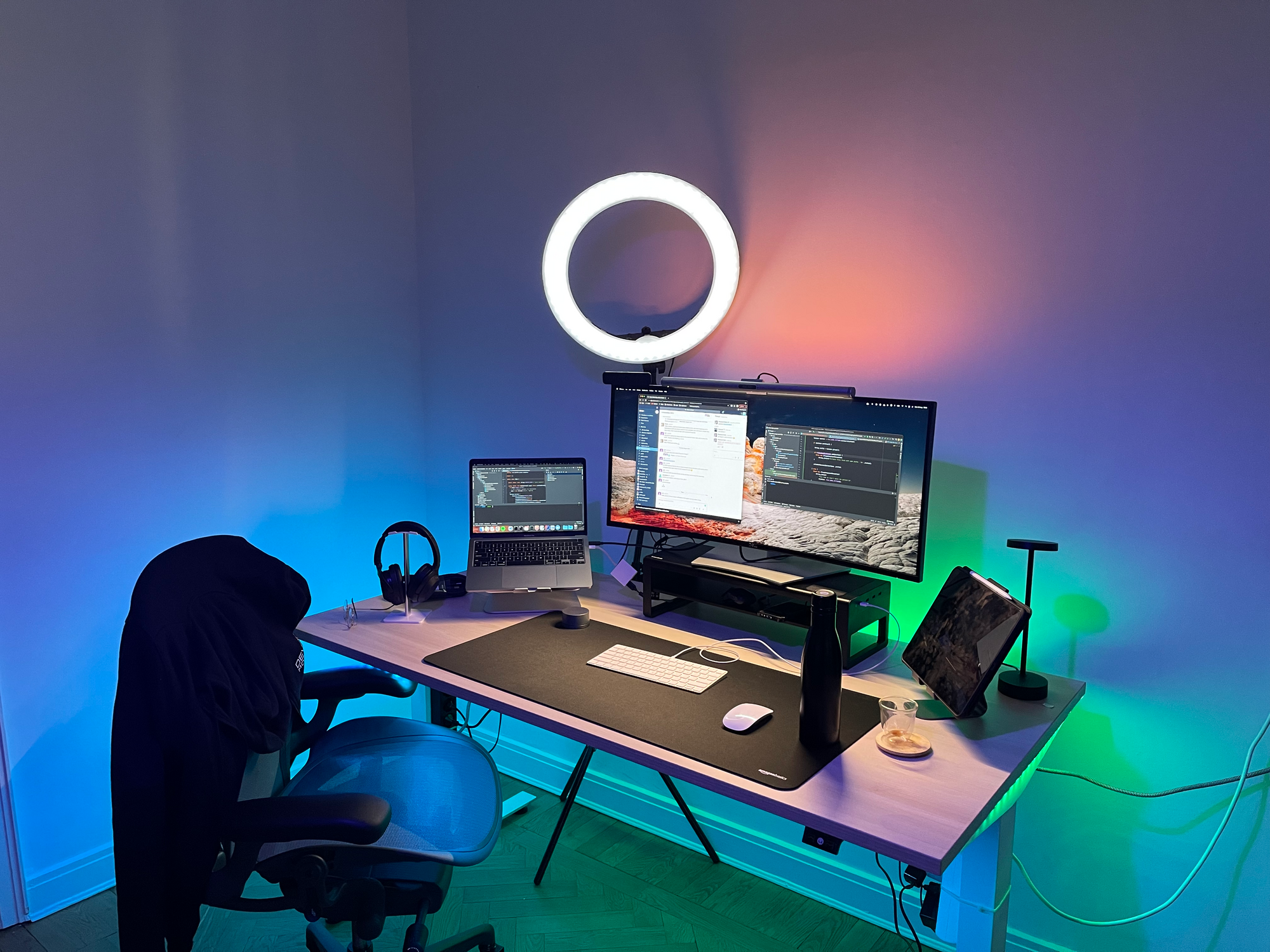 List of Equipment and details
Dell UltraSharp 34 Curved USB-C Hub Monitor (U3421WE): I like the "hub" aspect of this monitor. It's actually very useful especially for a MacBook pro user like me. Everything plugs into the monitor itself—all your USB gear (mouse, keyboard, backup drive, microphone, whatever you've got)—even ethernet! And then ONE cable connects to your laptop, and even charges it.
Vaydeer 2 Tiers Aluminum Monitor Stand with Wireless Charging: What I like about this monitor is the modern look, solidity, compactness and also has a middle tray to put notes and other stuffs and best part are four USB's hub + wireless phone charging!
Rain Design mStand Laptop Stand:  Very Solid. I used it with both 15' and 13' sizes of macbook pro. It fits really well, looks nice matching aluminum material.
Neewer Ring Light Kit:18"/48cm Outer 55W 5500K Dimmable LED Ring Light: This one is very popular among beauty blogger 😅 However it's affordable compared to other alternatives, with (very )powerful light. Easy to setup and use.
Yeelight LED Screen Light Bar Pro: This one surprise me, I wasn't expecting to be that good. I comes both with a nice round remote controller, or you can use the Yeelight app for more light themes.
I put more lighting under my desk using Govee WiFi LED Strip. It has even a music mode and it's CRAZY!
Lamicall Tablet Stand for iPad Pro: Robust, feels nice and does its job very well!
Sony WH-1000XM3 Noise Cancelling Wireless Headphones: Although I usually use airpods pro for almost all my meetings, I have to admit I like those headphones a lot. The noise canceling is amazing. The sound quality is excellent, and if you use the Headphones app you can change the base and other EQ settings.
New Bee Headphones Stand: It looks nice, fits well and does the job!
Logitech C925e webcam: Nothing much to say here, It's a webcam. Not very happy with it though. I may change it later tbh.
Large Amazon basics mouse pad. Not fancy, but quite practical,
Apple MacBook pro 13', airpods pro, ipad Pro 12.5', Magic mouse and magic keyboard! You can call me an apple fan-boy 🍎
Herman Miller chair (Aeron) and adjustable desk (Nevi desk).